Elections: Making Your Vote Count
Elections: Making Your Vote Count
For Americans, there is no responsibility more fundamental to the liberty we cherish than voting.
In the weeks leading up to the all-important November 3rd national elections, historians David and Tim Barton from WallBuilders.com are hosting the exclusive TBN series Elections, exploring the unique foundations of America's constitutional republic, the crucial role our electoral process plays in our nation's heritage of ordered liberty, and why voting is such an important responsibility for Americans — and for Christians.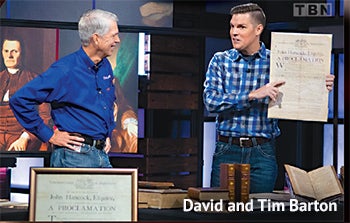 Each episode of the six-week Elections series deals with a crucial aspect of America's constitutional foundations — from the roles and responsibilities of our three distinct governing branches, to national, state, and local elections, the way we elect our president, and how Christians can be sure they are voting biblically and responsibly.
Don't miss the informative and inspiring TBN series Elections.
Airs:
Mondays at 10 pm ET / 9 pm CT
Thursdays at 1:30 am ET / 12:30 am CT
Fridays at 6:30 pm ET / 5:30 pm CT