TBN Prayer Center
WE ARE HERE TO PRAY WITH YOU.
"Peace I leave with you; My peace I give to you; not as the world gives, do I give to you. Do not let your heart be troubled, nor let it be fearful."  JOHN 14:27, NASB
This Christmas season remember that your TBN family is here to pray with and encourage you. We know difficult feelings like anxiety, frustration, and sadness don't take a holiday. But you don't have to hold on to them. Our Savior took them all for you.
"What Jesus purchased for us at the cross will never pass away," said Pastor D Robinson, TBN network pastor. "Jesus tells us that in this world trouble is inevitable—we'll all face it at some point in our walk with God. '... but take courage,' Jesus assures us, 'I have overcome the world' (John 16:33, NASB). That is what living in true peace— Kingdom peace—is all about. It is the basis for the authority we have as Believers." Greater is He who is in us than he who is in the world (see 1 John 4:4)!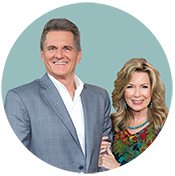 VICTORY IS OURS!
Victory is ours—a promise repeated throughout God's Word and over the networks of TBN. You can see what the work of God does in the lives of those watching TBN—hope and grace filling their souls and forcing the enemy to flee.
Just like Alivia, you can tune in to TBN often or stream your favorite programs on your preferred device. There, you will find comfort, peace, and encouragement. Here at Christmas, please remember that you're a part of a voice that is declaring God's goodness and faithfulness to more than one billion potential souls—bringing them "good tidings of great joy" (Luke 2:10, KJV). Thank you!
       Matt & Laurie Crouch