"Through the Eyes of a Lion" — Powerful Six-Part Series Debuts June 20 on TBN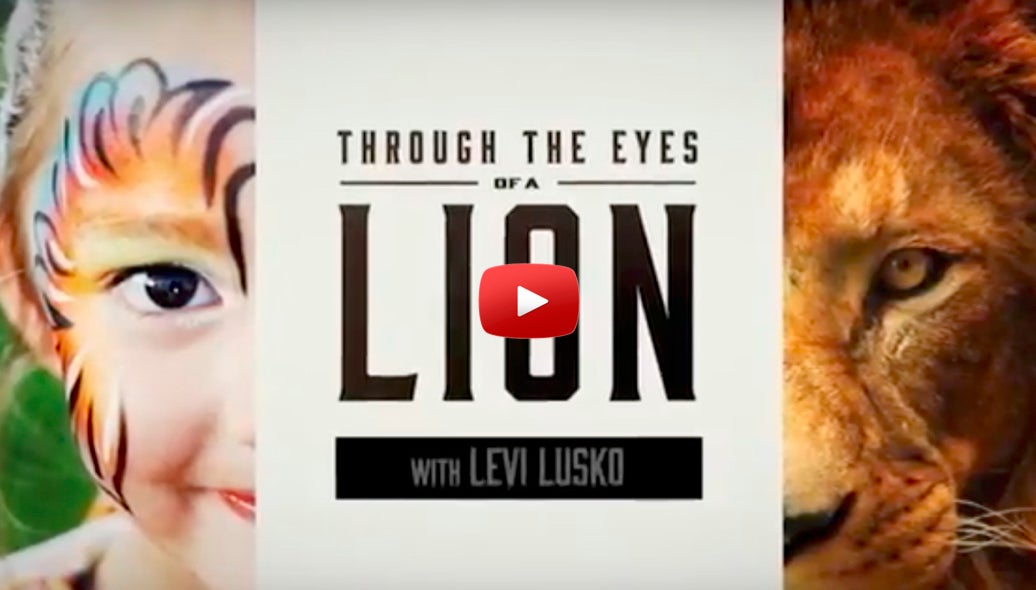 LOS ANGELES (June 16, 2017) — What will you do when the unthinkable happens in your life? Like most of us, pastor, speaker, and best-selling author Levi Lusko never gave such a query much thought until the unthinkable actually happened to him and his wife Jennie. On December 20, 2012, five days before Christmas, their five-year-old daughter Lenya — whom they had nicknamed Lenya Lion because of her ferocious personality and her wild, mane-like hair — died in an emergency room after suffering a massive and unexpected asthma attack.
In his new six-part series Through the Eyes of a Lion, debuting on the Trinity Broadcasting Network June 20th, Levi Lusko uses the tragedy of his daughter's death to share some life-changing truths about the power of hope and God's purpose in a world that is often filled with pain, suffering, and loss.
Based on Pastor Levi's best-selling book of the same title, Through the Eyes of a Lion is designed to offer viewers the resources and tools they need to face their fears and turn their daily journey into a joyous "roar story." More than just a "how-to" for navigating the grief, pain, loss, and disappointment everyone faces in life, Through the Eyes of a Lion is a manifesto for victorious living.
Through six powerful episodes Pastor Levi: 
– Shares how God used his daughter's tragic death to teach him how to see life "through the eyes of a lion" — a metaphor for viewing personal loss and pain through the lens of faith.
– Explores the incredible workmanship God used in designing a lion's eyes to show how what we long for the most is often right in front of us.
– Explains that how we will face future hardships is largely dependent on what we do with our relationship with God today.
– Teaches how the pain we face in life helps us become effective in reaching others in their need.
– Shares how seeing life through the eyes of a lion helps us embrace God's promise that there is "more beyond" what we see today.
– Relates how real faith is not mindlessly following an unknown path, but learning to live our lives with joyous expectancy for the good things God has in store for each of us.
"We've produced Through the Eyes of a Lion to help you see that God made you for a purpose," said Pastor Levi. "You have a wild and wonderful calling, and Jesus wants you to look at the adventure of your life through His eyes — the eyes of a Lion."
Join Pastor Levi Lusko for the powerful six-part series Through the Eyes of a Lion, debuting Tuesday, June 20th, at 4:30 p.m. Eastern / 1:30 p.m. Pacific, exclusively on TBN. Find out where TBN is airing near you with our channel finder, or watch TBN on our livestream HERE.
About the Trinity Broadcasting Network
Trinity Broadcasting Network is the world's largest and most watched faith-and-family broadcaster, reaching over 175 nations across the earth with inspirational and entertaining programming 24 hours a day in 14 languages and on 30 global networks. As the world's most influential non-profit religious broadcaster, TBN has led the way in expanding the impact of faith-based television across the earth through the creation of innovative content designed to reach every viewer demographic with the life-changing message of hope and grace. To find out more about the Trinity Broadcasting Family of Networks, visit us at tbn.org.
Media Contact
Colby May
E-Mail: cr@tbn.org
Tel: 972-313-9500