Better Together: First-Ever Daily TV Show Created and Produced by Women — Just for Women — Premieres April 22 on TBN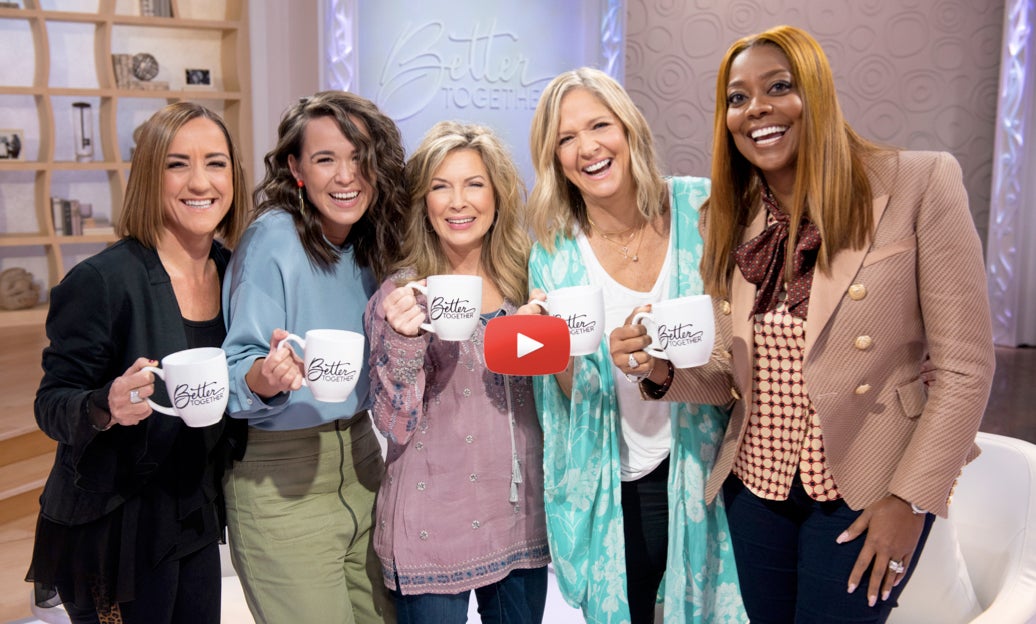 LOS ANGELES (April 19, 2019) — When like-minded women get together to share, pray, and encourage each other, there's no doubt about it — great things happen! That's the idea behind Better Together, the first-ever daily television show created and produced by women, and just for women — premiering Monday, April 22, exclusively on faith-and-family network TBN.
Hosted by TBN's Laurie Crouch, wife of TBN president Matt Crouch, along with some remarkable friends, Better Together is a fast-moving thirty minutes with real women of faith and action having honest, engaging conversation about all sorts of issues — with no topic off limits!
Matt Crouch explained that the idea for the innovative talk show came together as he, Laurie, and several other couples got together regularly for dinner. "You guessed it," he recalled, "the women always ended up at one end of the table sharing and encouraging one another. And that's how the format for this unique show was born! It's just that informal — friends encouraging friends in a world that very much needs transparent conversation and encouragement these days."
Each week on Better Together Laurie Crouch welcomes an exciting group of friends and co-hosts, like Christine Caine, Lisa Harper, Holly Wagner, DeeDee Freeman, Hosanna Wong, and other ministry leaders. With wisdom, faith, and humor, these true friends unpack topics that are important to women from all walks of life.
"God created each of us for community and friendship," said Laurie. "Life comes at us at a fast and furious pace, and we're not meant to do it alone. I really believe we see Jesus more clearly when we experience Him in the context of the lives and circumstances of other people. That's what Better Together is all about — loving Jesus and growing in His grace together as a family."
She added that the goal is to connect viewers together from across the nation and world into a community of friends fellowshipping, praying for, and encouraging each other. "We want Better Together to go beyond just a daily television program," she said. "We want to hear from women everywhere. This is all about building a community where we are linking arms with our sisters in Christ all over the world."
Don't miss Better Together, airing weekdays at 1:30 p.m. Eastern / 10:30 a.m. Pacific, beginning April 22 — exclusively on TBN! Follow us on Instagram and Facebook at BetterTogetherTV. And find out where TBN is airing near you with our channel finder, watch TBN on our livestream HERE, or download our all-new app to view TBN on your Apple or Android devices.
About the Trinity Broadcasting Network
Trinity Broadcasting Network is the world's largest and most watched faith-and-family broadcaster, reaching over 175 nations across the earth with inspirational and entertaining programming 24 hours a day in 14 languages and on 32 global networks. As the world's most influential non-profit religious broadcaster, TBN has led the way in expanding the impact of faith-based television across the earth through the creation of innovative content designed to reach every viewer demographic with the life-changing message of hope and grace. To find out more about the TBN Networks, visit us at tbn.org. And follow us on Facebook, Twitter, and Instagram @tbn.